About the Sportsman's Guide
"For everything to outfit your passion…at the Lowest Prices, Guaranteed!"
The story of Sportsman's Guide is simple and straightforward… guaranteed lowest prices on a huge selection of name-brand outdoor gear, clothing and footwear, with fast, courteous service and a satisfaction guarantee. We've been outfitting America's outdoorsmen since our very first catalog hit the streets in 1977.
NEW AND IMPROVED LOOK, SAME VALUES!
If you haven't checked us out in a while, you may notice we've re-invented ourselves some. A lot actually…new Sportsman's Guide and Buyer's Club logos, a streamlined, updated look for the SportsmansGuide.com website with pinpoint search and refined categories plus expanded selections, a cleaner, simpler-to-shop design for the catalogs and the redesigned Guide Outdoors Community/Blog.
But what hasn't changed is our business philosophy and values. We offer only quality items...and we sell them for a whole lot less than others do, guaranteed. We only offer gear and clothing we'd use ourselves or suggest to our best friends, and we keep our prices low by buying right, not by adding to the mark-up. That's why you'll find close-outs, factory over-runs, limited-quantity buys and big-quantity buys priced below market here. We literally search the world in order to keep the supply of brand-new items flowing steadily from week to week. And we're continually adding new items… at least 200 every week.
WHO WE ARE and WHERE WE CAME FROM
The Sportsman's Guide was born in the brain and basement of outdoorsman Gary Olen, back in the winter of 1970. His very first Sportsman's Guide Catalog came out in 1977, offering discount-priced gear and clothing to hunters, along with the item that started it all, a trophy jacket patch that allowed deer hunters to brag about their success. We're located in the land of 10,000 lakes, Minnesota, in South St. Paul. Actually, to be exact, it's the land of 11,842 lakes. All 650 Sportsman's Guide Associates work to insure your satisfaction in all facets of our relationship…courteously giving you all the information you're looking for and taking your order, picking and carefully packing your order, shipping your order to your doorstep, and being available after the sale for any kind of support you might want. We're an all-in-one operation, and most orders are shipped directly from our 591,000 square foot warehouse.
THE LOWEST PRICES GUARANTEED!
For everything to outfit your passion…at the Lowest Prices, Guaranteed! That's our goal and you can always count on getting the lowest prices at Sportsman's Guide®. If you find a lower advertised price for an item we sell within 30 days of placing your order, we will refund you the difference. Proof of purchase and a copy of the retailer's lower advertised price is required. Retailer must have item in stock. Sorry we don't price match auction sites or other retailers paid membership prices. This guarantee does not apply to guns, ammunition and clearance items. Call Customer Service at 1-888-844-0667 for more information.
Effective Date: 4/14/2016
HUGE SELECTION…over 300,000 deals.
From the biggest names in the industry, on our website and in our catalogs. Hunting gear, shooting gear and clothing, ammunition, camping gear, fishing gear, reloading gear, military surplus, clothing, boots and shoes, workwear, western wear, truck and ATV accessories, tools and power equipment, home and gifts… we can save you money on everything for the outdoors, everything for your passions. Carhartt®, Remington®, Winchester®, Rocky®, Wolverine®, Wrangler®, Browning®… to name just a very few because the entire list would fill pages. All the gear and clothing from all the companies you know and trust.
Our bargain-filled catalogs include a main catalog each month, plus Hunting catalogs, Shooter's shooting accessories and ammo catalog, HQ military surplus catalogs and Gift catalogs.
COURTEOUS SERVICE/EASY RETURNS
Over the years, we've earned a reputation for providing maximum customer service! You can count on the fact that our courteous, knowledgeable Customer Service Reps are ready to help you. Got a question? Or a problem? You can get the answers you need two ways: 1.) call customer service toll-free at 1-888-844-0667; or 2.) email your question to custserv@sportsmansguide.com. We'll respond quickly and accurately. Customer Service via email is now available on weekends, too. Click here to contact us.
FAST, EFFICIENT SHIPPING
Your order for in-stock merchandise will arrive within 3-7 business days of the time you place the order. Plus, care is taken in packing to be sure your merchandise gets to you in the same perfect shape as when it left the warehouse.
And, when you're running late for a special occasion, or a hunting trip, for instance, and need something "yesterday," our Express Delivery Services will get your order to you FAST, when you need it. You can choose 3-Day, 2-Day or Next Day delivery. Click here for more details…
GUARANTEED SATISFACTION
We've got the strongest Guarantee in the business, plus returning merchandise is a snap! Your satisfaction is guaranteed... period. We stand solidly behind every item we sell. And, on those rare occasions when you need to return an item, you don't even need to call. Just complete the return form, or a copy of the form, you'll find on the back of your invoice and send it along with the merchandise you're returning. Use the shipping label on your invoice (located on the opposite side of the return form). Or, send your return to: The Sportsman's Guide, Returns Department, 560 Armour Ave., So. St. Paul, MN 55075. For more information about returning an item, click here.
BUYER'S CLUB
Buyer's Club members save money on nearly every purchase, have access to the Buyer's Club 4 Pay Plan and the Buyer's Club Visa card, plus get special Club only offers throughout the year. And the best part? The savings is 100% guaranteed or your money back. Click here for more information…
GUIDE OUTDOORS COMMUNITY/BLOG
Our Guide Outdoors community/blog sets the standard for finding and sharing information about the Great Outdoors. It's packed with up-to-date outdoor news and articles… including specific information relating to every state, along with ballistics charts, tips, gear reviews, columns by outdoors experts and more. In large measure, Guide Outdoors encourages and invites you to connect, and to SHARE THE THRILL, with other customers by sharing experiences, adventures, photos, ideas, recipes, pride and passions, whatever's on your mind. Additionally, multiple relevant blog posts are added every day, all easily searchable, all inviting your reactions and comment. Click here to check it out.
VISIT OUR RETAIL OUTLET STORE
Located at 490 Hardman Ave. in So. St. Paul, Minnesota, our retail outlet store is great place to save big on gear and clothing because it's literally jam-packed with deals…overstocks, limited quantities, clearance items, ammo…plus you can order anything from our catalogs or website at the Will-Call desk. Click here for directions.
OTHER INFORMATION YOU MIGHT BE INTERESTED IN
SG's Guiding Initiatives represent 5 core corporate goals to which all employee objectives are aligned. Collectively, these initiatives embody "WHAT we do" and are the foundation on which SG's sustainable and profitable growth is built.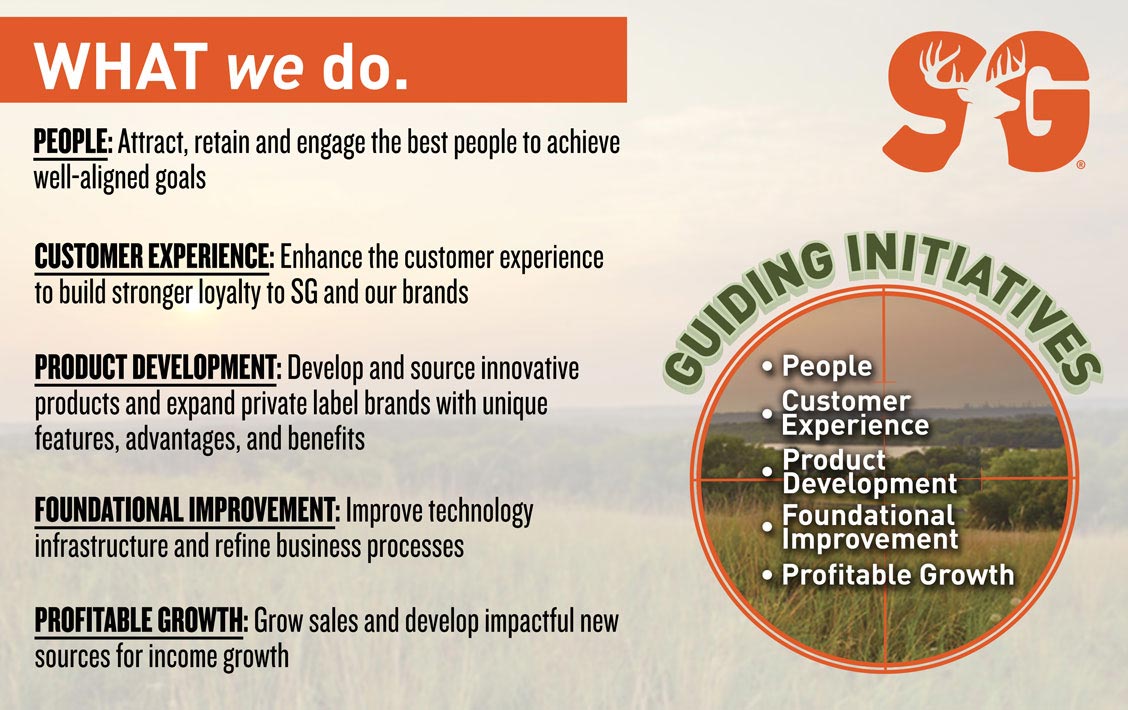 Similarly, SG's Guiding Values represent "HOW we do it". They define how employees should work with one another and interact with customers and partners. Guiding Values help SG align work priorities and make sound decisions. They represent the company's highest priorities and driving forces and govern all SG does as a business.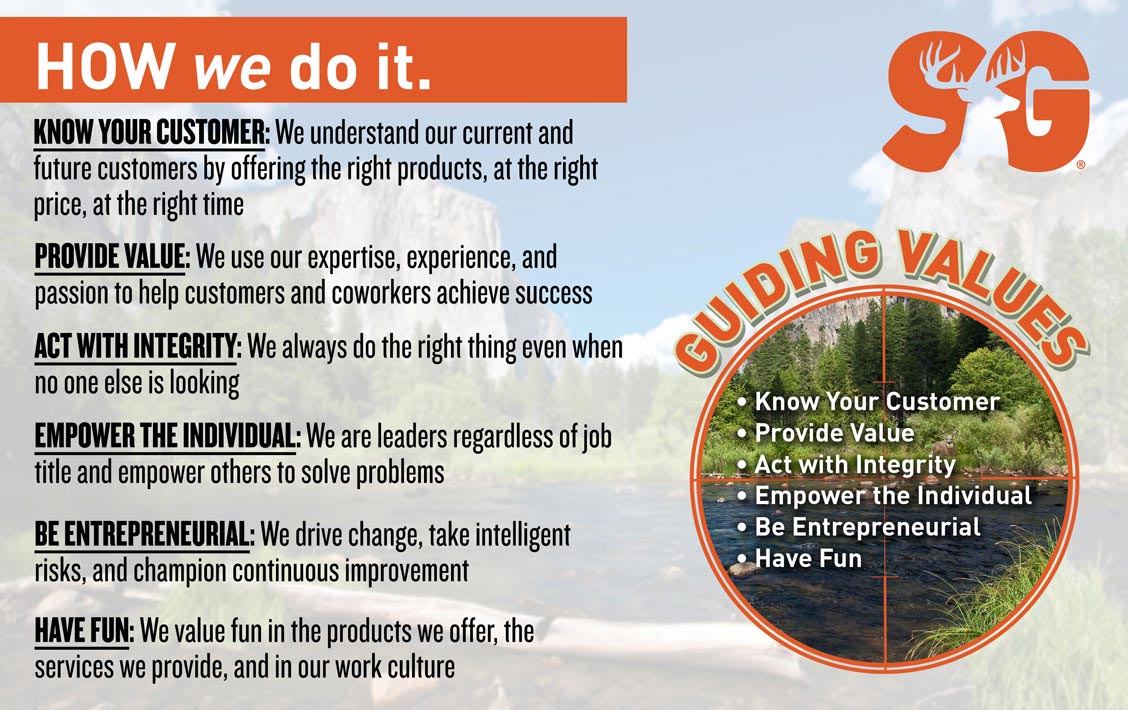 OUR INVOLVEMENT IN OUR COMMUNITY
Sportsman's Guide Associates are very active in the community. During the past year, we've enthusiastically supported Feed My Starving Children and held flash food drives to benefit Neighbor's Inc. Emergency Services. We also regularly participate in the Fill the Backpack campaign to benefit school children, the Beyond the Yellow Ribbon winter clothing drive to benefit servicemen and women their families, and the Toys for Tots program during the holidays. Plus, we're regular contributors to the Red Cross blood bank. We always represent with a float and associate presence in the annual So. St. Paul city celebration parade.
ORGANIZATIONS WE SUPPORT
National Rifle Association
Rocky Mountain Elk Foundation
Pope & Young
Whitetails Unlimited
National Shooting Sports Foundation
Quality Deer Management
Boone & Crockett
Mule Deer Foundation
OUR TV COMMERCIALS
You can see our television commercials by clicking here.
CORPORATE
Our sister company, The Golf Warehouse, is located in Wichita, Kansas. Along with TGW, we are owned by Northern Tool + Equipment, a supplier of high-quality tools and equipment founded and owned by the Kotula family for more than 30 years, selling products through direct mail, the internet and at 85 retail locations in 16 states, located in Burnsville, Minnesota.
THANK YOU, and Enjoy the Savings!
Important Legal Notice
The Sportsman's Guide, Inc. does not warrant that a person may legally purchase, possess, or carry specific items offered in the catalog or on this website according to federal, state or local laws. These items include, but are not limited to, blackpowder guns, all ammunition, machetes, air guns, paintball guns, blank firing guns, bows, slingshots, knives, stun guns, fuses, blowguns, crossbows, certain non-lethal and chemical spray devices. A person placing an order for such items in the catalog or on this website warrants that he or she is an adult and is under no legal restrictions which would prohibit such person from ordering, owning, possessing, or transferring these items under applicable federal, state or local law. Further, these items cannot be sold to minors, convicted felons, those convicted of a misdemeanor crime of domestic abuse or those chemically dependent. For ammo and black powder orders, a person warrants that he or she is at least 21 years of age. Our products are not Native American Indian ("NAI") made or affiliated with any particular NAI, NAI tribe or NAI arts and crafts organization.
Errors
We do our best to make sure the correct photo, price and copy are shown. But... sometimes we make a mistake. In the event of any such mistake, we reserve the right to charge the correct price, to ship the correct item, or to correct the mistake.