With Sportsman's Guide Gift Cards and e-Gift Certificates, you always give the Perfect Gift... because the people you care about choose it themselves!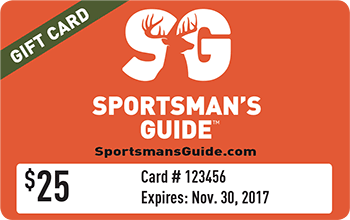 (Current catalog accompanies Gift Cards)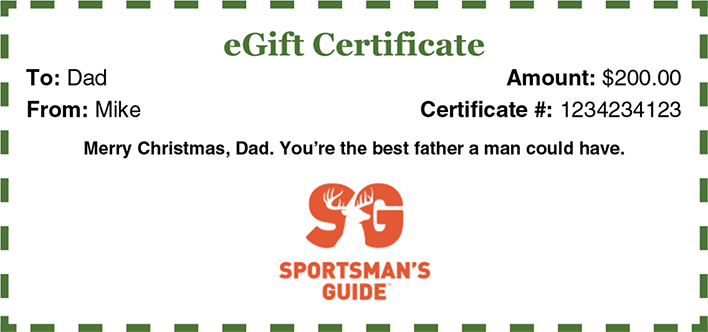 (Will be sent via e-mail)
No Shipping Charges
Gift Cards will be shipped via 2nd Day Air to the address provided at time of order. However, Gift Cards may not be processed and shipped for up to 24 hours after order placement. eGift Certificates will be e-mailed to you within 24 hours excluding weekends.
Notes: • Gift Cards and eGift Certificates can be redeemed online, over the phone, thru the mail or fax, or in The Sportsman's Guide retail outlet store. • Gift Cards and eGift Certificates cannot be purchased using the 4-Pay Plan, and there is no Club Member Discount on the purchase of Gift Certificates. • Gift Certificates may be redeemed in full or in part, but cannot be redeemed for cash.
Note: International ordering not available.