Sportsman's Guide Retail Outlet Store
Located in South St. Paul, MN, the Sportsman's Guide Retail Outlet Store is your destination for incredible deals on everything for the outdoors. Every item from our catalogs and website can be ordered in-store, and most items you can take home right away.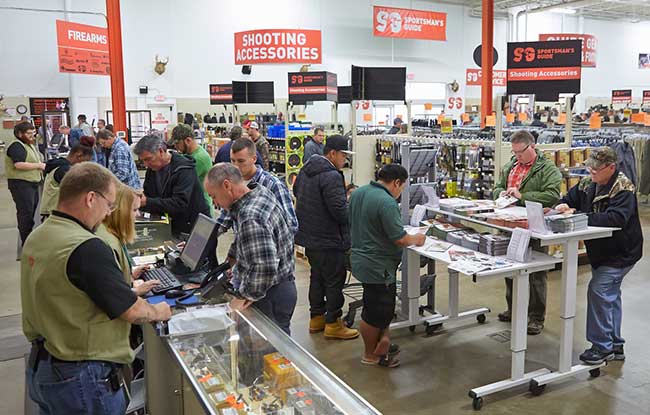 HUGE selection of Firearms, Ammo and Shooting Supplies
The Sportsman's Guide® Retail Store offers an impressive selection of firearms for immediate purchase and order, featuring more than 300 different makes and models of Handguns, Rifles, and Shotguns from Glock®, Smith & Wesson®, Ruger®, Springfield Armory®, SIG SAUER®, ATI® and many more.
Looking to build, repair or modify? We carry Uppers and Lowers from Ruger®, Alex Pro Firearms, Anderson and more, plus all the parts you need to build, accessorize and optimize your own Modern Sporting Rifle. Barrels, Stocks, Triggers, Handguards, Optics, Magazines…we've got it all!
Plus, we carry a full line of Ammo, from .22LR to .50BMG, including rare calibers and great buys on bulk ammo you won't find anywhere else.
In addition to Guns, Ammo and Parts, we also carry Gun Cleaning Supplies, Gun Cases, Targets, Ammo Cans, Shooting Rests and other essentials, all at low prices. Whether for hunting, range shooting, competition or CCW, we have everything you need.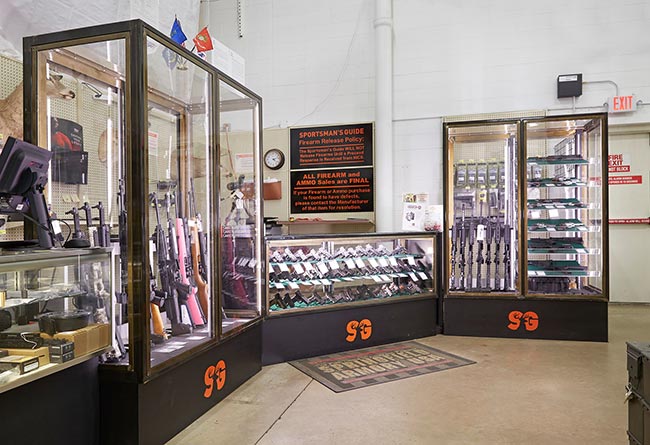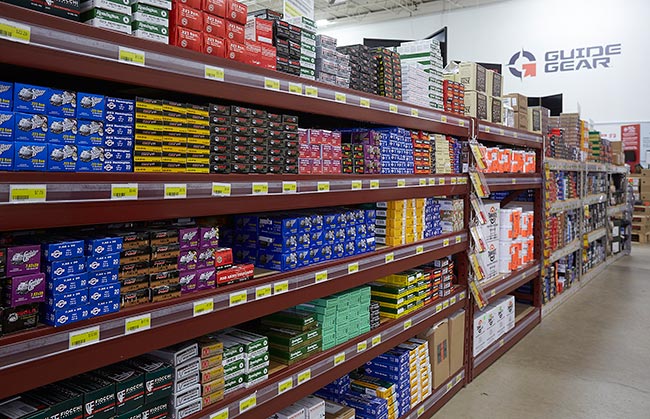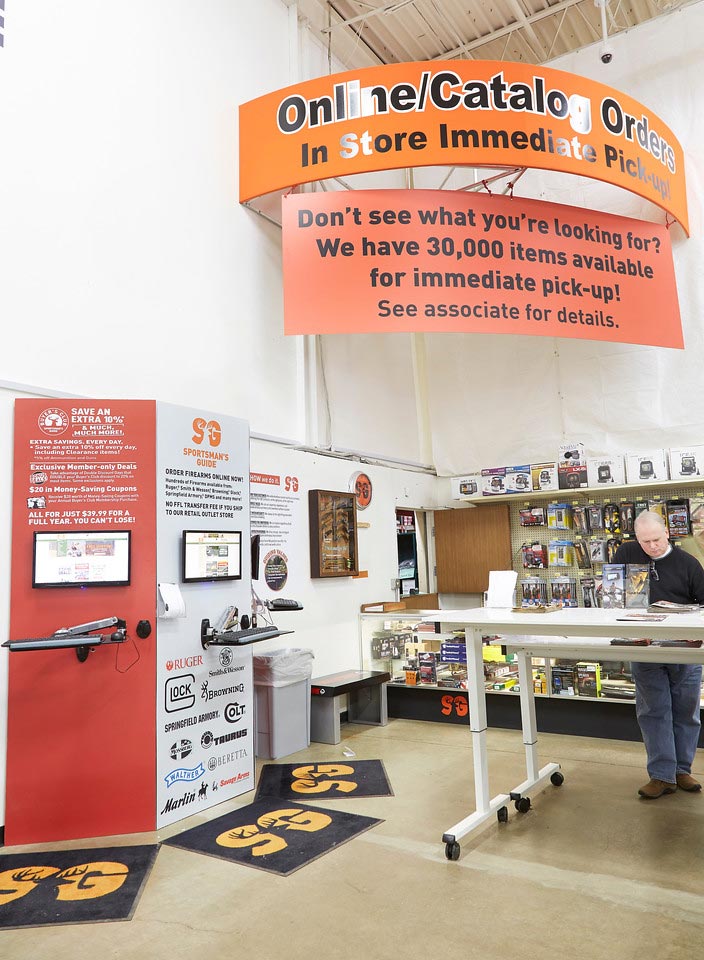 Order In-Store and take your purchases home today!
When you shop our Retail Store, you've got instant access to every product in our 30,000-item warehouse, which is just footsteps away. Simply order the item(s) you want at our Catalog Order Counter and we'll pick them while you wait. That means NO SHIPPING COSTS!
Just place your order with our friendly staff and you'll have your items and be out the door in minutes…no waiting for FedEx to arrive! NOTE: This applies to all in-stock warehouse items. Items shipped directly by the manufacturer cannot be picked up at the store.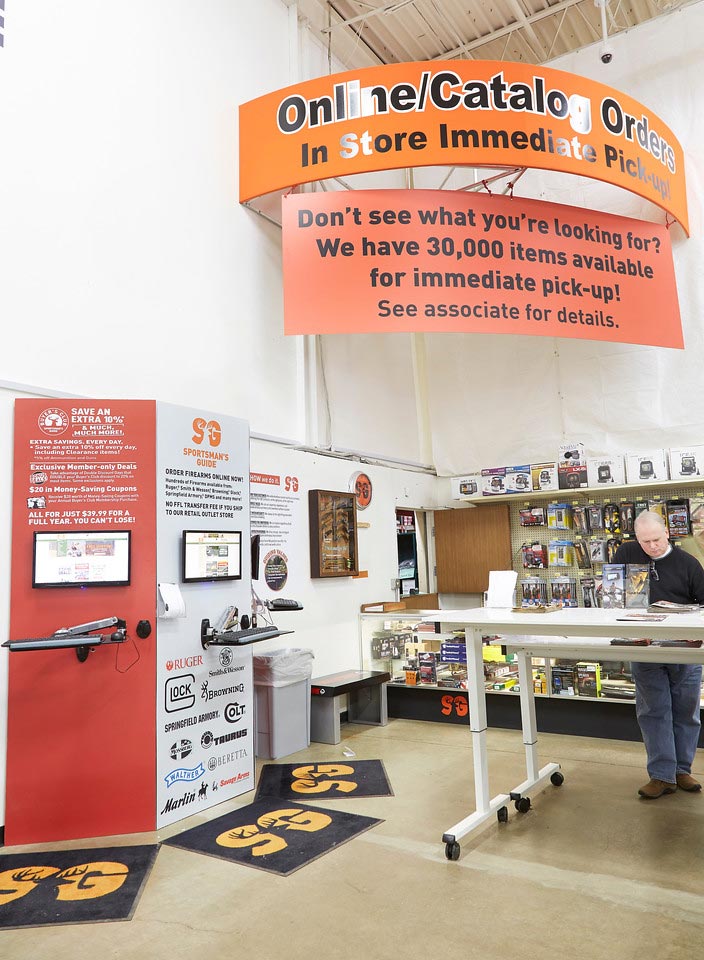 Everything you need to outfit your passion
Whatever your passion, you'll find the gear you need to make the most of every moment outdoors at Sportsman's Guide. Huge selection. Name brands. Unbeatable prices. It's all here!
Ammo & Shooting
Guns
Hunting
Military Surplus
Boots & Shoes
Clothing
Fishing
Boating
Camping
Truck Accessories
Outdoor Recreation
Tools & Power Equipment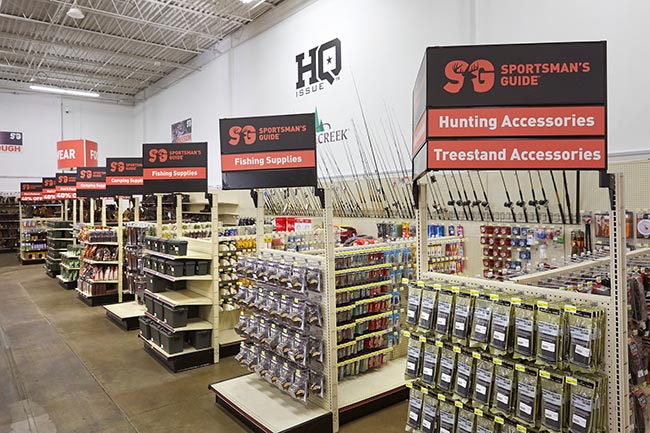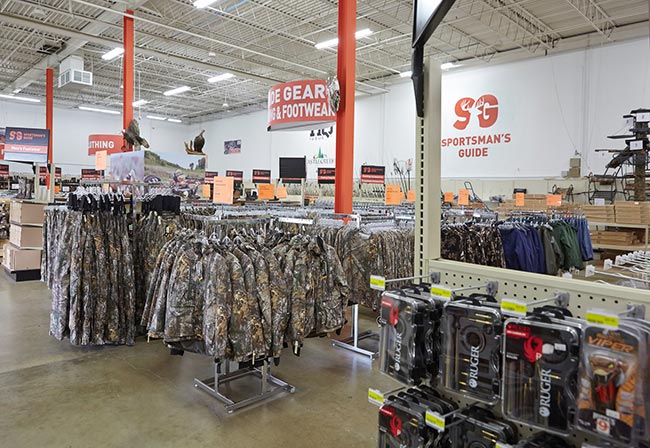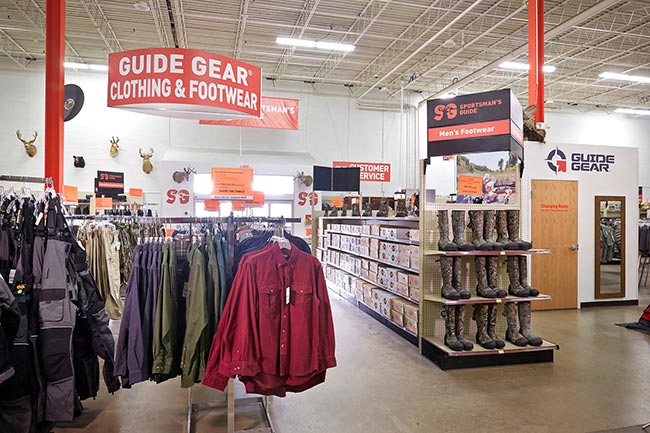 Clothing & Boots/Shoes
Gear-up for your next outdoor adventure with the top brands in Clothing & Boots/Shoes including Under Armour®, Columbia®, Merrell®, Keen®, Carhartt® and more. Plus, discover the unbeatable quality and value of Guide Gear® and HQ ISSUE™. Whether for camping, hunting, fishing, work or every day around the back yard, we've got you covered.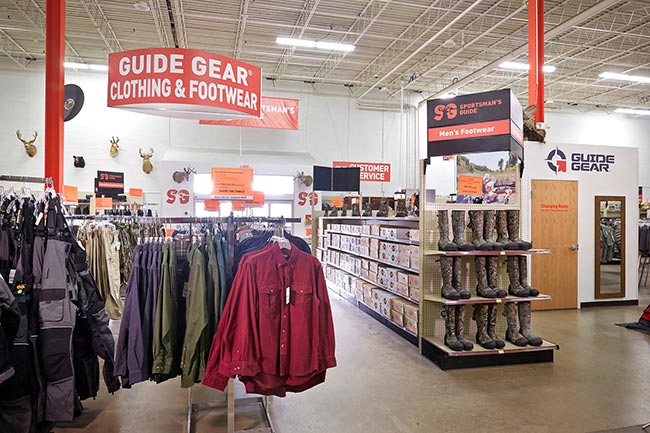 >
Clearance Corner
Head to our Clearance Corner and save up to 50% or more on a huge assortment of Apparel & Footwear. The selection is always changing, and new items are added daily. You never know what you'll find…and you won't believe how much you'll save…even on top outdoor brands! Stop in often so you don't miss out!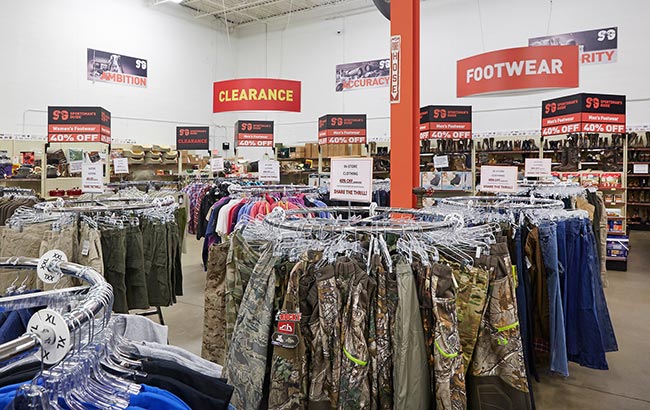 Hours
Monday - Saturday 9:30AM-6:00PM
Sunday - Closed
Retail Phone Number
651-552-5248
Address
490 Hardman Avenue in So. St. Paul, MN
Directions/Map
To get to our Retail Store, take 494 and exit north on Hardman Avenue (Exit 64A)…then look for our sign and bright orange awnings on your left.
Sign up for Email Specials!
Get advance notice about upcoming sales & catalog sneak previews
Modal Trigger
Modal Trigger
Modal Trigger
Modal Trigger
Modal Trigger
Modal Trigger
Modal Trigger
Modal Trigger
Modal Trigger
Modal Trigger