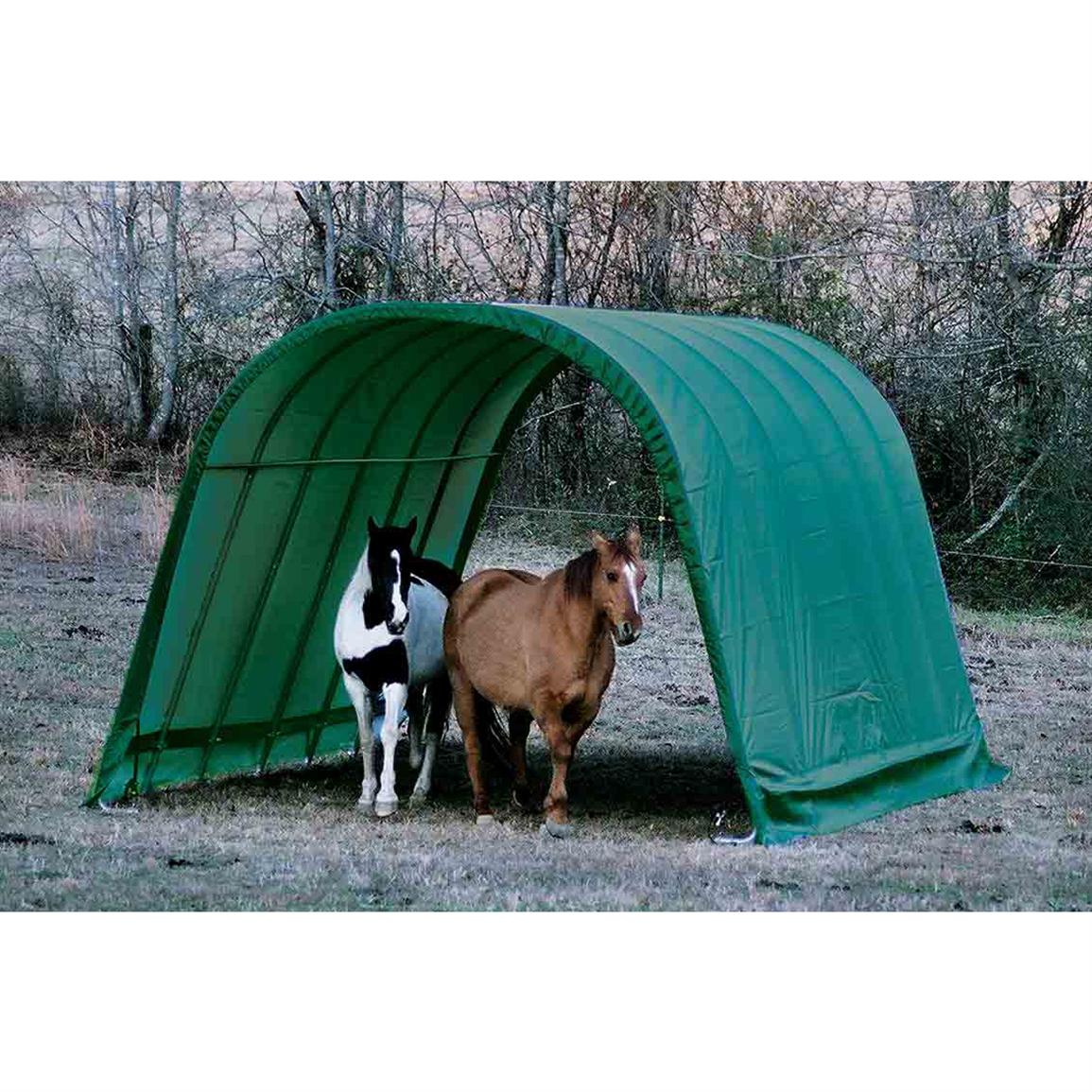 Shelter Logic 12x20x10' Equine Run-In Shelter
Shelter Logic™ 12x20x10' Equine Run - In Shelter
Item # WX2-142728
Facebook

Twitter

Google+

Pinterest

Email
Add an additional $170.00 heavy/bulky shipping charge per each.
This item will be shipped by commercial carrier curbside. $75.00 for curbside delivery (i.e., liftgate delivery to the curb) is included in the heavy / bulky shipping and handling charge. High-value orders require a physical street address, otherwise insurance costs will be added to the shipping total. You can SAVE $100 when you pick up your item at the nearest ABF Freight System Terminal (please check above for details)
This item is shipped directly from the factory. To see the expected shipping date, please add to your Shopping Cart. Sorry, no express shipping available. We are unable to ship factory direct items to Alaska, Hawaii, Puerto Rico or APO or FPO addresses.
This item cannot ship to Canada.
This item cannot ship internationally.
Details & Specs

Shelter LogicTM AG Series 12x24x10' Run - In Shed. Protect those valuable animals from the elements!

Specifically designed for equine and other livestock. Hot sun and bad weather in general are hard on your livestock, so here's your answer. Every Shed goes through a proprietary 13-step Rhino Shield steel surface preparation process. A fine buy that will pay for itself in high-level protection!

Fine features:

1 5/ 8 " high grade steel frame, bonded with Dupont&trade thermoset baked on powder-coated finish to prevent chipping, peeling, rust and corrosion
Advanced engineered, 3-layer, chemically heat bonded, enhanced polyethylene rip-stop fabric cover is standard issue Hot air fused seams are 100% waterproof. UV-treated inside and out with added fade blockers, anti-aging, anti-fungal agents resulting in a cover that withstands the elements
Slip-fit connectors and swedged tubing make for easy assembly. Bolt hardware at every connection ensures a solid structure
Rugged Ratchet Tite&trade tensioning enables quick cover installation. Easy Slide Cross Rail System squares up frames and bolt hardware at every connection point for stability
Structure sets up quickly and in most cases requires no building permits. Note: Check local ordinance before installation.

Protects and shelters the animals... order yours ONLINE today!

SAVE UP TO $100.00! when you pick

your merchandise up at your nearest

ABF Freight System terminal.

Click below or

Call 1-866-221-8125 for details.

Reviews

Q & A

<!--BVSEO|dz:Main_Site-en_US|sdk:v1.0.7.0-n|msg:Error: Request errored out - The remote server returned an error: (403) Forbidden. -->

Articles & Tips
You May Also Like
Buyer's Club

$16.19

Non-Members

$17.99

Buyer's Club

$10.79

Non-Members

$11.99

Buyer's Club

$22.49

Non-Members

$24.99