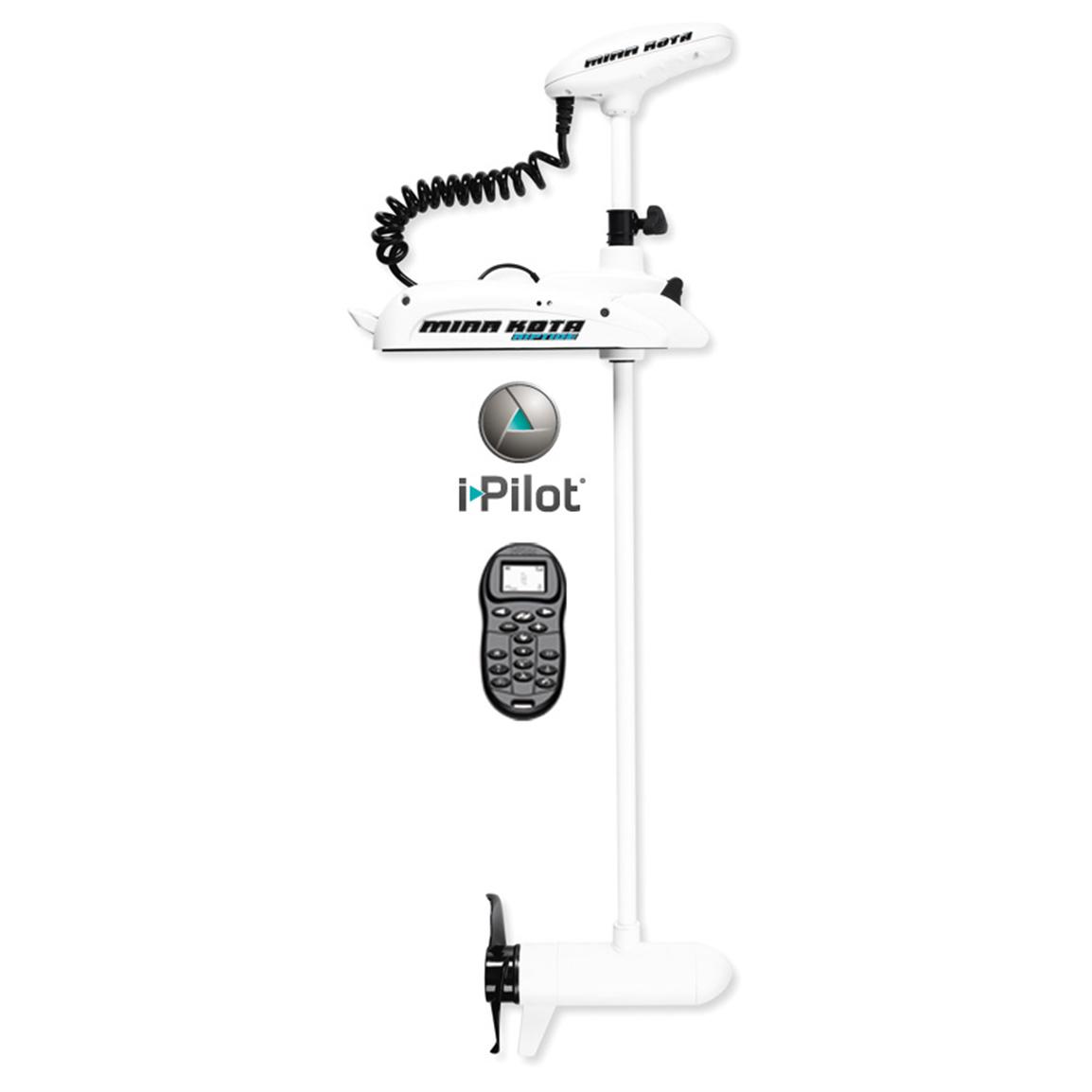 Minn Kota® Riptide ST Saltwater Trolling Motor with UPDATED i-Pilot™
Minn Kota® Riptide ST RT80 / i-Pilot™ 24V 80 lb. Thrust Saltwater Bow Mount Trolling Motor without Foot Pedal
Item # W409B-217362
Facebook

Twitter

Google+

Pinterest

Email
Details & Specs

Minn Kota® Riptide ST Saltwater Trolling Motors with UPDATED i-PilotTM.

Featuring the updated i-Pilot™, now with more Spot-Lock locations, more recordable tracks, and newer, better remote control! i-Pilot automatically controls and steers your boat using GPS technology . Lock onto a fishing spot - and stay there. Record a successful path, then retrace it later. Set cruise control for the perfect bait presentation. GPS accuracy, all with the sole purpose of making you a better angler at the push of a button.

But i-Pilot is only part of the package. You also get the convenience of electric-steer plus battery-maximizing, power-conserving Digital Maximization™. It all comes powered by a beefy Weedless Wedge 2™ prop, and backed by Minn Kota's famous cool, quiet power.

Read on for all the details: Check out all the ways the updated i-Pilot can help you:

Record a Track - simply push the record button and fish along your desired course, and i-Pilot stores the track... up to 6 tracks total. When you want to retrieve the course, the playback function automatically guides your boat along the track.

Spot-Lock - Choose up to 6 separate spots for i-Pilot to remember. When you want to return, simply press the button, and the i-Pilot will take you there from up to a quarter mile away.

Cruise Control - gives you unparalleled bait presentation by maintaining the perfect speed you choose. Allows you to adjust your speed in 1/10 MPH increments.

Advanced Autopilot - simply point the Terrova in the direction you want to go, and the i-Pilot keeps you on a GPS-perfect course while compensating for drift and wind.

Copilot - the new and improved i-Pilot remote features a 20% larger LCD screen and high-vis buttons. Compact, watertight and easy to use, the Copilot remote gives you instant feedback on active functions, speed, prop on / off status, GPS signal strength and more.

Minn Kota's famous cool, quiet power:

Larger brushes, windings and commutators generate less heat, less noise and run cooler-- extending motor life and conserving battery power. You get greater sustained thrust and more time on the water. A unique bearing system produces low rpms / high torque to cut down on fish-spooking noise-- so quiet they'll never hear you coming.

Digital Maximizer™:

Instead of wasting energy with a constant flow of power, Digital Maximizer delivers only what's needed... a precise amount of power at any setting, along with variable speed control. The bottom line is more time on the water for you.

Indestructible Composite Shaft:

Guaranteed by Minn Kota for life! Pound for pound, it's stronger than steel. Shaft flexes on impact and won't break, kink, or corrode.

Weedless Wedge™ 2 Prop:

Only Minn Kota's Weedless Wedge 2 Prop can push weeds away and take on the thick stuff without battery-draining chopping and hacking. They've improved the legendary design with swept-back, flared blades for unrelenting, reliable prop performance.

Reviews

Minn Kota Riptide ST RT80 / i - Pilot 24V 80 lb. Thrust Saltwater Bow Mount Trolling Motor without Foot Pedal

is rated out of

5

by

1

.

Rated

5

out of

5

by

scoutyscout

from

it is awesome

I use this model on the front of my drift boat for trolling for salmon in my local bay. It does great. No more holding on to a handle to steer the boat, struggling to maintain the proper speed and having to try to rebait or clear the lines. It really frees you up to concentrate on fishing. I have 3 boys that need help with their gear, so this is a life saver. Before it ,my fishing adventures had become a chore. The ablity to set your speed and course and make adjustments by the push of a button is great. As for battery life it has been incredible. I can fish all day, against and with the current and tide. When I get home I plug it in (I have a a on board charger and use cabelas agm batteries) and it is recharged before I get up the next morning. I have never used more than 25% of by battery reserve. This always amazes me. My gas trolling motor does not get used much and my gas bill is small. Top speed with the current is 5 mph, and I have always been able to beat the current. The only gripes are that I have had to replace the controller once, it steers better with a little rudder in the back ( the gas trolling motor serves as my rudder). Without the rudder it at times will over correct when on auto pilot. The spot lock works however it does allow you to drift a little before it corrects. This makes it hard to run a plug with the spot lock on and when I do run a plug I use my normal anchor. Over all this has been one of my best purchases to date.

Date published: 2015-03-11

Q & A

<!--BVSEO|dz:Main_Site-en_US|sdk:v1.0.7.0-n|msg:Error: Request errored out - The remote server returned an error: (403) Forbidden. -->

Articles & Tips

Rebates

MinnKota Saltwater Promotional Offer Click here for rebate form...