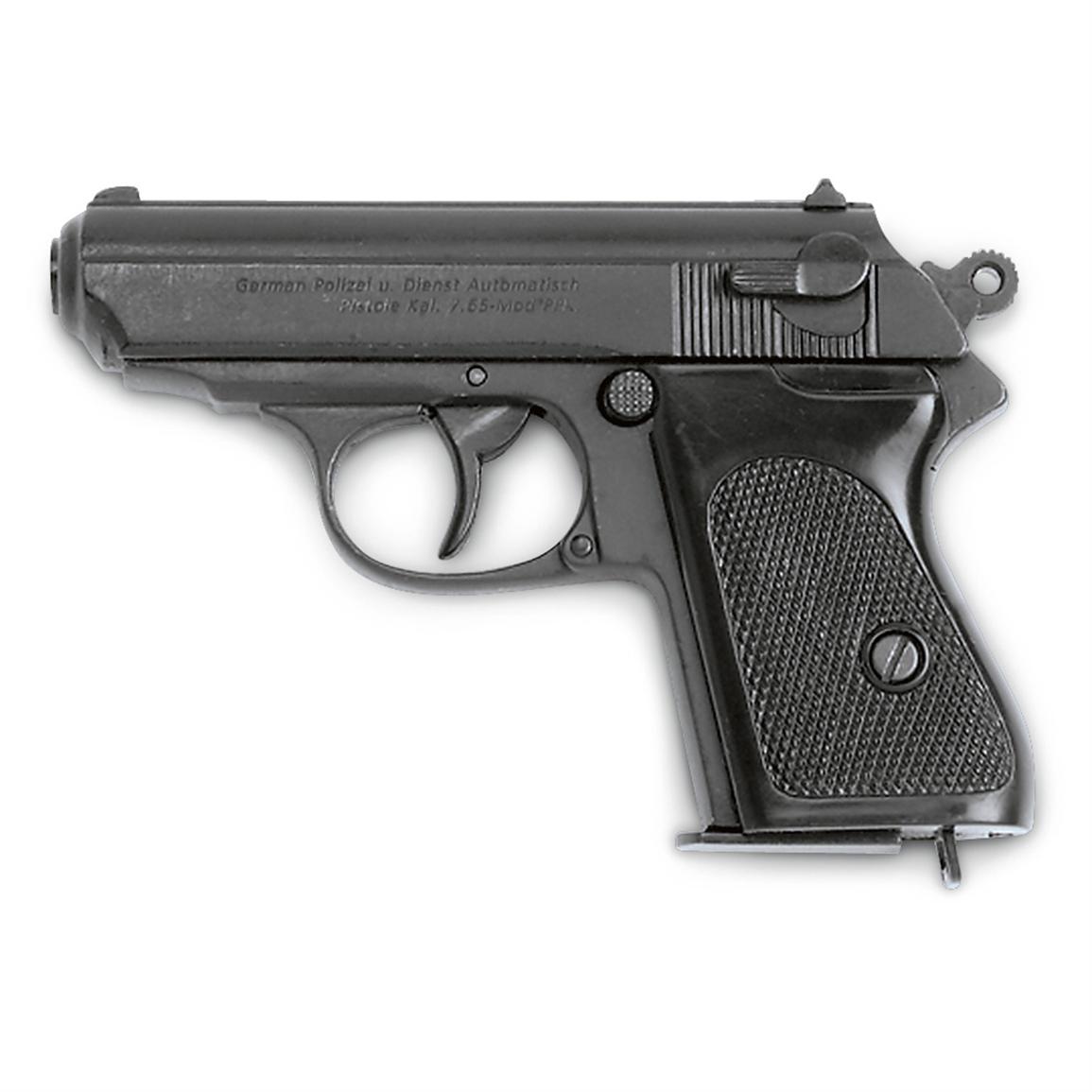 German Police Pistol Replica; Non-firing Replicas with moving parts... holding one is like going back in history!
Luger P - 08 Pistol Replica
Item # WX2-234165
Facebook

Twitter

Google+

Pinterest

Email
This item cannot ship via any of our Next Day or Second Day Express delivery methods.
You must be 18 years of age to purchase this item.
Shipping restrictions apply to this product under some jurisdictions. Known age, state and local shipping requirements are applied at checkout and may result in changes to an order.
This item cannot ship to Canada.
This item cannot ship internationally.
Details & Specs

Collectors Armoury® Replica Military Pistols. Let history live again in your collection!

These military Replicas are based on the most famous sidearms of WWII. Each is meticulously crafted to create a non-firing version that feels just as real in every other way. Perfect for historians, use as theatre props, re-enactments and more.

From the battlefields of WWII:

Intricately detailed, based on the originals
Correct weight and size
Metal construction, cannot be disassembled.

Order ONLINE Today!

Lightweight and easily concealable, this German auto was made famous by a ficticious British spy. 7"l. Weighs 1 lb., 8 ozs.

The "broom handle" Mauser was made famous in countless war movies and was a favorite of Winston Churchill. 11 1/ 2 "l. Weighs 3 lbs., 8 ozs.

This "high-powered" Replica has a removable magazine and working slide, trigger and hammer. 7 3/ 4 "l. Weighs 1 lb., 14 ozs.

A Replica of the standard government-issue sidearm of the U.S. soldier since 1911. 8 1/ 2 "l. Weighs 2 lbs., 8 ozs.

This Replica shows every detail of one of the most famous German officer's pistols of WWII. Functioning slide, non-removable clip. 8 1/ 2 "l. Weighs 2 lbs., 8 ozs.

A Replica of the P-08 orignally designed by George Luger. 8 1/ 2 "l. Weighs 2 lbs., 4 ozs.

Reviews

Q & A

<!--BVSEO|dz:Main_Site-en_US|sdk:v1.0.7.0-n|msg:Error: Request errored out - The remote server returned an error: (403) Forbidden. -->

Articles & Tips
You May Also Like
Buyer's Club

$49.99

Non-Members

$49.99

Buyer's Club

$179.99

Non-Members

$199.99

Buyer's Club

$116.99

Non-Members

$129.99