Guide Gear Men's 17" Insulated Rubber Hunting Boots, 2,400 Gram
Item # WX2-292570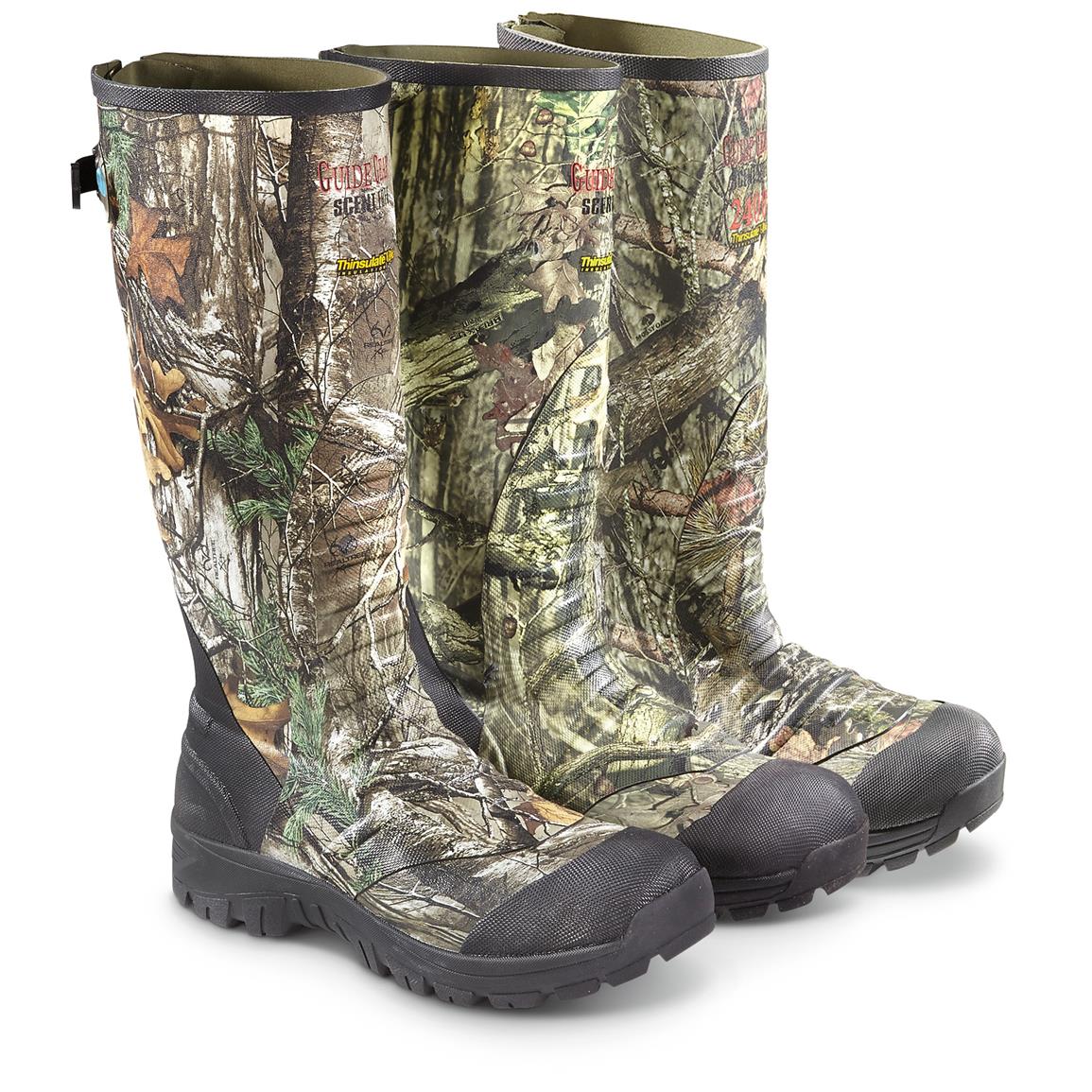 Guide Gear Men's 17" Insulated Rubber Hunting Boots, 2,400 Gram • From Left to Right: Realtree Xtra / Mossy Oak Break-Up Infinity / Mossy Oak Break-Up Country
Our WARMEST EVER, at a price that melts the competition!
Don't Forget
Non-Member

$16.99

Buyer's Club

$15.29

Non-Member

$24.99

Buyer's Club

$22.49

Non-Member

$19.99

Buyer's Club

$17.99
Details & Specs

Reviews

Q & A

Images & Videos

Articles & Tips

Extreme-cold Boots for Norsemen. Antarctic explorers. And you. We know your type. Because we're the same way. Bone-chilling, beard-freezing, teeth-rattling temperatures... they don't scare you. They don't even slow you down. For the man who stands tall in the face of weather that defeats lesser men, we offer our Guide Gear® 2,400-gram Ankle Fit Rubber Boots.

The World's Best Value in Ultra-warm Winter Boots.

We looked around. Scoured the globe. Sent a rocket to Mars. Here's what we found: Similar boots retail for $150.00 or more... and they don't even come close to the heavy-duty, cold-busting bravado of our 2,400 gram Boots. You simply won't find a better, warmer pair of Boots at this price, anywhere. Not even in space.

Amazing Warmth? Count on it!

At the crack of dawn on late November mornings, when other boots are rubbing the sleep out of their eyes or pulling on another blanket because "It's too cold to get up," these Boots are ready for action. Because Guide Gear 2,400 gram Ankle Fit Rubber Boots don't get cold. They get awesome. That's because they're fortified with 2,400 gram ThinsulateTM Ultra Insulation that beats cold like a rented mule to keep you on the hunt, no matter how cold it gets.

Comfort for Miles. And 100% Waterproof.

Not only are these Boots incredibly warm, they're 100% waterproof. And cushioned. AND just right in fit. They feature a removable polyurethane insole that's substantially thicker than your average insole. That means better comfort and support. Plus, the gusseted calf expands to accommodate your brawny, Paul Bunyan-like calves.

Durable rubber uppers are thicker and more substantial than most, so they can take a lot of punishment. Our rubber is also scent-free, meaning those nosey whitetails will never smell you coming
2,400 grams of premium Thinsulate Ultra Insulation defeats the cold to keep your stompers warm and comfortable in extreme temperatures
100% waterproof, seam-sealed construction provides ultimate protection against wet, frozen feet
Toe guard, heel guard, and shin guard provide more "beef" where it counts, keeping your feet safer while upping the durability factor
Steel shank between the insole and outsole adds firm underfoot support, which helps fight fatigue and adds a protective layer between you and puncture wounds and stone bruises
Removable polyurethane insole is thicker and more comfortable than the skimpy, paper-thin insoles you'll find on lesser boots
Gusseted calf expands to accommodate pants or larger calves... good news for you lumberjacks with tree-trunk legs
Smart, ankle-fit design means they can fit exactly how you want 'em to fit
Cupped rubber sure-grip outsoles deliver ground-grabbing bite for reliable traction on ice, snow, mud, and other dicey terrain
Each stands approx. 17"h. for full coverage, and weighs approx. 56 ozs.

Why wait until your feet feel like frozen hams? Order today!

Built to Sportsman's Guide's exact specifications, Guide Gear stands for dependability, long-lasting quality and unmatched value! Guaranteed!

Item number: 292570
Upper material: Rubber
Insulation: 2,400 gram Thinsulate Ultra
Waterproof: Yes
Color: Mossy Oak Break-Up® InfinityTM

Height (taken using a size 9): 17"
Weight per boot (using a size 9): 56 ozs.
True to size: Yes

!!! Limited Quantities !!!