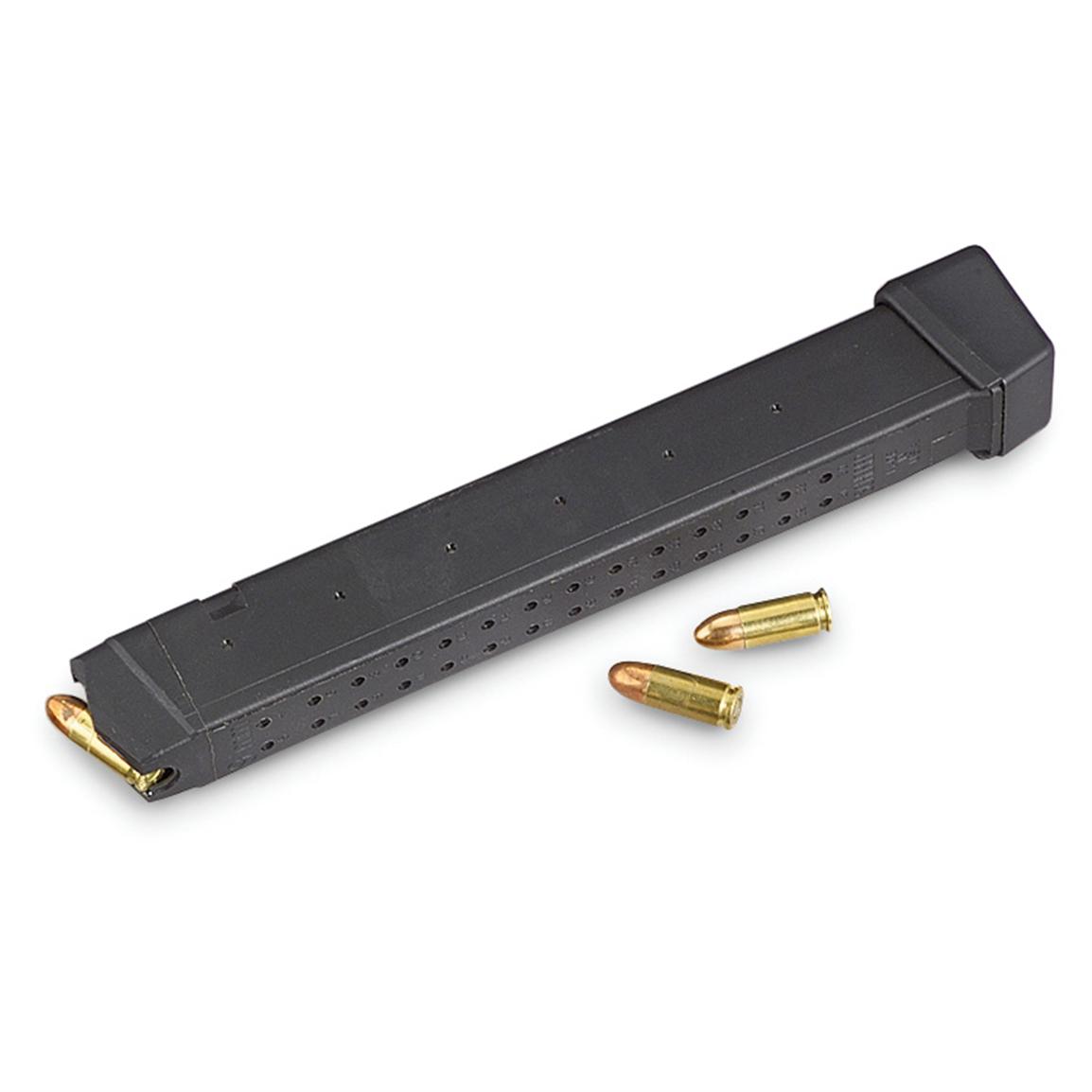 Glock® Magazines; High quality. 100% Glock!
Glock® 22 22 - rd. Magazine
Item # WX2-220444
Facebook

Twitter

Google+

Pinterest

Email
You must be 18 years of age to purchase this item.
Shipping restrictions apply to this product under some jurisdictions. Known age, state and local shipping requirements are applied at checkout and may result in changes to an order.
This item cannot ship to Canada.
This item cannot ship internationally.
Details & Specs

Factory - original Glock® Mag.

These factory original Glock® Mags are ultra-tough polymer with steel lining, ensuring smooth feed. With small holes to see round count.

Get yours ONLINE now!

Reviews

Glock 22 22 - rd. Magazine

is rated out of

5

by

6

.

Rated

5

out of

5

by

ERVIN

from

Fit GLOCK 32 perfectly fed excellent. although must breakin springs with extended capacity mags. Official GLOCK mags at an excellent price.

Date published: 2014-05-12

Rated

5

out of

5

by

DAVID

from

It has the heft and ruggedness of OEM gear that I would expect when buying Glock parts. I haven't used it yet but look forward to using it.

Date published: 2014-03-14

Rated

5

out of

5

by

JASON

from

Awesome love this mag. Great quality Glock factory mag. Fit was like a glove. Loaded 21 rounds, 22 was too tight. Have not ran it yet but will soon.

Date published: 2014-02-24

Rated

5

out of

5

by

HAYWARD

from

Good mag at a great price. Life is good!!

Date published: 2014-02-01

Rated

5

out of

5

by

W S

from

5 out of 5 These magazines are real Glock manufacture, not aftermarket. The one I received was the newest 4th generation. It has the notches on both sides so it Will work with gen 4 with mag release switched to right hand side for lefties.

Date published: 2012-08-29

Rated

5

out of

5

by

MICHAEL

from

Works fine in my Glock 22. No jam and good feed.

Date published: 2012-08-23

Q & A

<!--BVSEO|dz:Main_Site-en_US|sdk:v1.0.7.0-n|msg:Error: Request errored out - The remote server returned an error: (403) Forbidden. -->

Articles & Tips
Don't Forget
Buyer's Club

$22.49

Non-Members

$24.99

Buyer's Club

$17.99

Non-Members

$19.99

Buyer's Club

$17.99

Non-Members

$19.99
You May Also Like
Buyer's Club

$8.99

Non-Members

$9.99

Buyer's Club

$71.99

Non-Members

$79.99

Buyer's Club

$53.99

Non-Members

$59.99