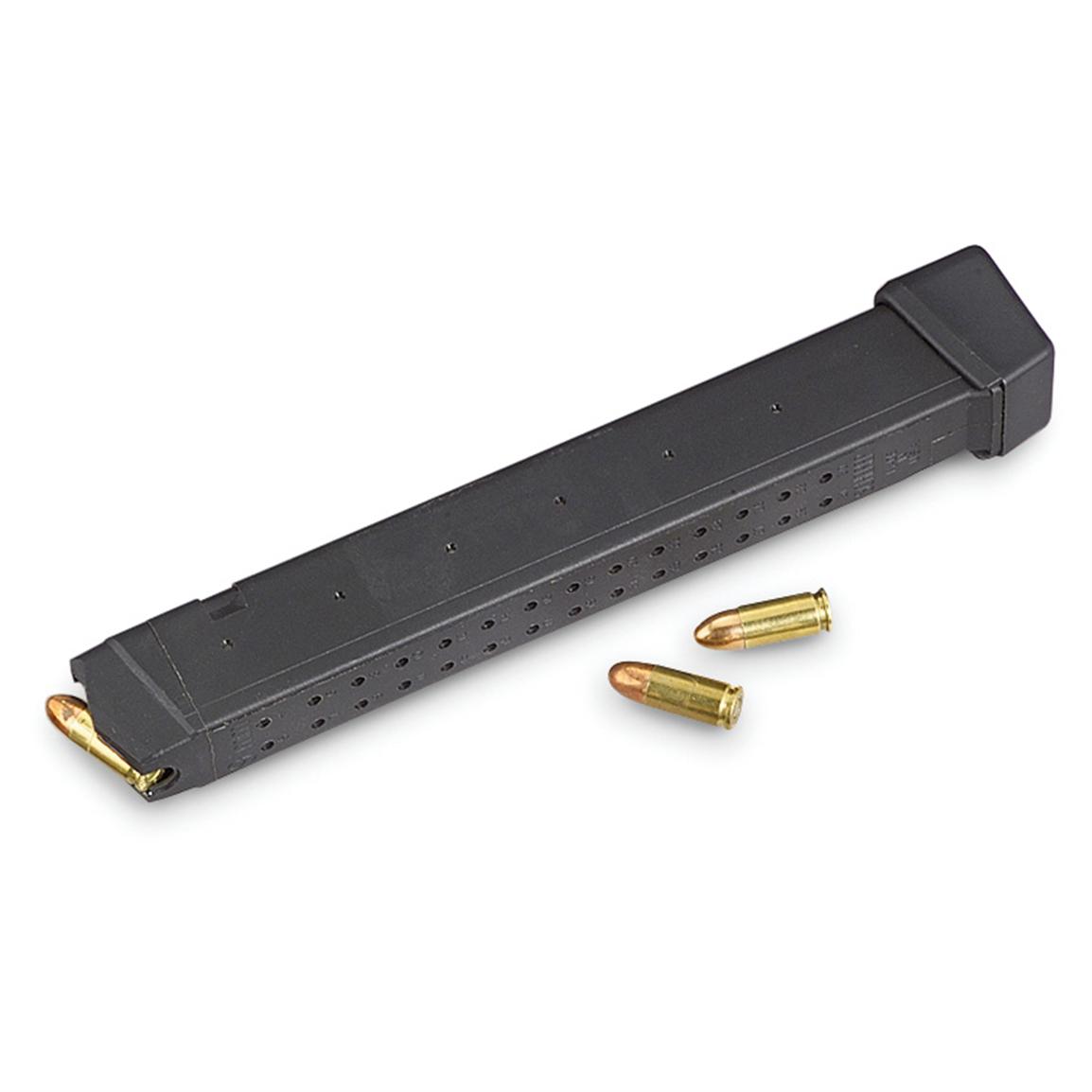 Glock® Magazines; High quality. 100% Glock!
Glock® 17 33 - rd. Magazine
Item # WX2-220443
Facebook

Twitter

Google+

Pinterest

Email
You must be 18 years of age to purchase this item.
Shipping restrictions apply to this product under some jurisdictions. Known age, state and local shipping requirements are applied at checkout and may result in changes to an order.
This item cannot ship to Canada.
This item cannot ship internationally.
Details & Specs

Factory-original Glock® Mag.

This factory-original Glock® Mag is ultra-tough polymer with steel lining, ensuring smooth feed. With small holes to see round count. 1 3/8 x 7/8 x 8 5/8"l., 4 ozs.

Get yours ONLINE now!

Reviews

Glock 17 33 - rd. Magazine

is rated out of

5

by

10

.

Rated

5

out of

5

by

DAVID

from

product as expected

Date published: 2014-05-07

Rated

5

out of

5

by

GEORGE

from

great

Date published: 2014-03-23

Rated

5

out of

5

by

BRIAN J

from

These mags are great for KelTec Sub 2000 carbine.

Date published: 2014-03-15

Rated

5

out of

5

by

KENT

from

Great for the range, nothing like more shooting and less loading...

Date published: 2014-01-30

Rated

2

out of

5

by

JAMES

from

these are now unavailable - but quick notification was nice thank you

Date published: 2013-01-15

Rated

5

out of

5

by

JAKE

from

I LOVE this magazine! I change this out between my G17 and my G26; works great on both models... Glock OEM so you know it's quality. YOU REALLY SHOULD BUY THESE NOW!!!

Date published: 2012-10-10

Rated

5

out of

5

by

CHRISTOPHER

from

havent taken it to the range yet, but its factory glock, i already know what to expect.

Date published: 2012-10-06

Rated

5

out of

5

by

WILLIAM V

from

Products made by Glock are always flawless. Except, maybe the Gen.4. Glock Mags. are the best. The 33-rd. "Happy Stick" works great.

Date published: 2012-08-30

Q & A

<!--BVSEO|dz:Main_Site-en_US|sdk:v1.0.7.0-n|msg:Error: Request errored out - The remote server returned an error: (403) Forbidden. -->

Articles & Tips
Don't Forget
Buyer's Club

$22.49

Non-Members

$24.99

Buyer's Club

$17.99

Non-Members

$19.99

Buyer's Club

$17.99

Non-Members

$19.99
You May Also Like
Buyer's Club

$98.99

Non-Members

$109.99

Buyer's Club

$71.99

Non-Members

$79.99

Buyer's Club

$62.99

Non-Members

$69.99