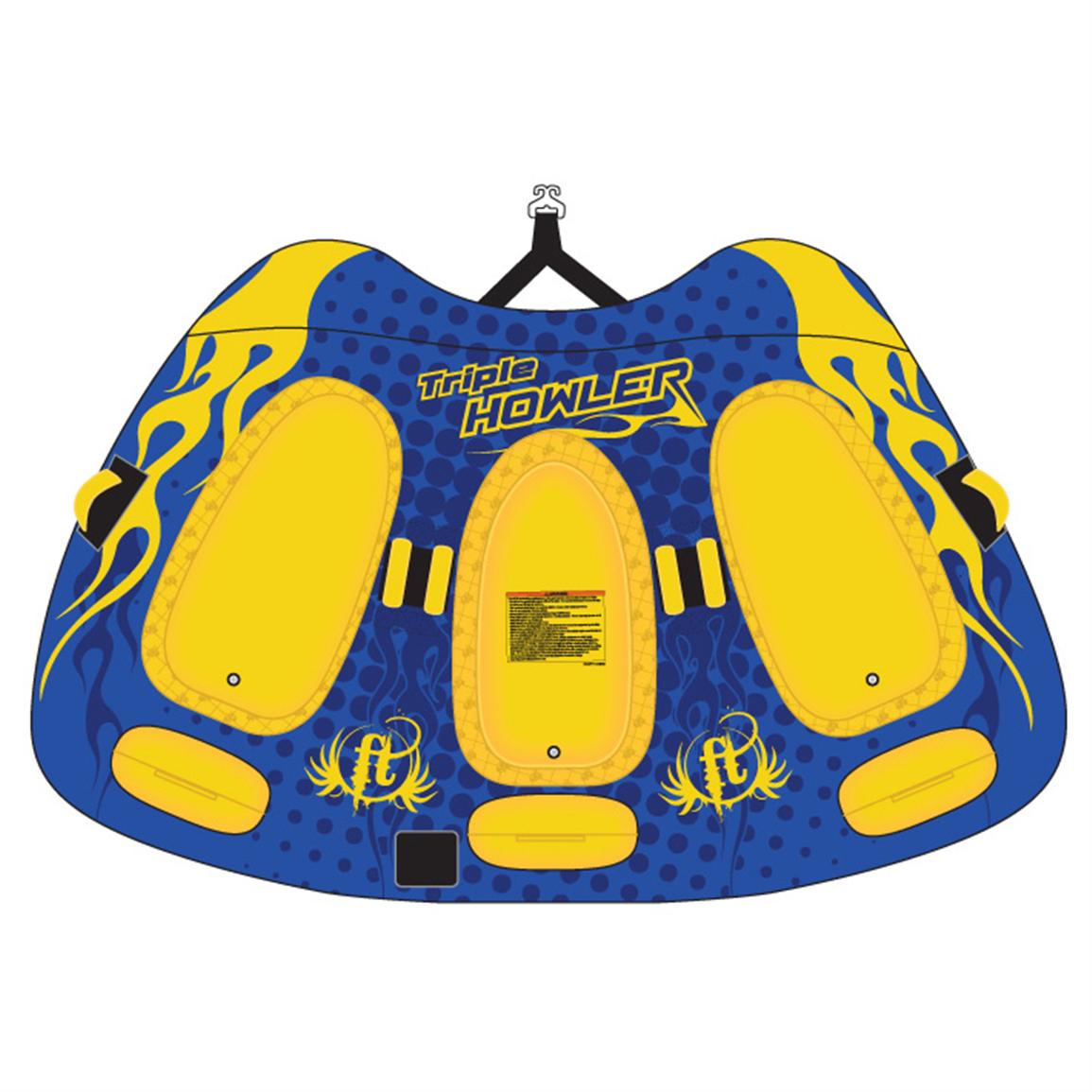 Full Throttle® Howler 3-person Towable
Full Throttle® Howler 3 - person Towable
Item # WX2-182670
Facebook

Twitter

Google+

Pinterest

Email
This item cannot ship via any of our Next Day or Second Day Express delivery methods.
You must be 18 years of age to purchase this item.
Shipping restrictions apply to this product under some jurisdictions. Known age, state and local shipping restrictions are applied at checkout and may result in changes to an order. PLEASE NOTE: We do not accept returns of Ammunition for safety reasons. NEVER use any Ammunition unless it is specifically designed for your firearm.
This item is shipped directly from the factory. To see the expected shipping date, please add to your Shopping Cart. Sorry, no express shipping available. We are unable to ship factory direct items to Alaska, Hawaii, Puerto Rico or APO or FPO addresses.
Details & Specs

Full Throttle® Howler 3 - person Towable. Howlin' fast fun for 3 with a safe sit - in design... all of the speed, none of the "ouch"!

Hold on to your potatoes! The Howler Towable from Full Throttle® is ready to deliver white-knuckle thrills to speed demons in lakes and rivers everywhere, with the added benefit of a safer cockpit design that's perfect for younger riders.

There's no better way to get the most action from your time on the water than on board the tough, 30-gauge PVC constructed Howler... nab yours here at a price that won't sink your budget!

Sit-in cockpit design is super-stable and safe for youngsters, fun and fast for all ages
Extra heavy-duty 30 gauge PVC construction
Inflated back rest and seat for a softer cushion ride
Multiple handles accommodate riders of any size
Large neoprene knuckle guards for comfort
"E-Z Connect" towing harness for easy rope hook-up and better control
Repair kit and Schrader Valve adapter included
Measures 6'10" x 10' wide deflated.

Buyer's Club at checkout and

instantly SAVE

$30.00 on this item!

Reviews

Q & A

<!--BVSEO|dz:Main_Site-en_US|sdk:v1.0.7.0-n|msg:Error: Request errored out - The remote server returned an error: (403) Forbidden. -->

Articles & Tips
You May Also Like
Buyer's Club

$35.99

Non-Members

$35.99

Buyer's Club

$22.49

Non-Members

$24.99