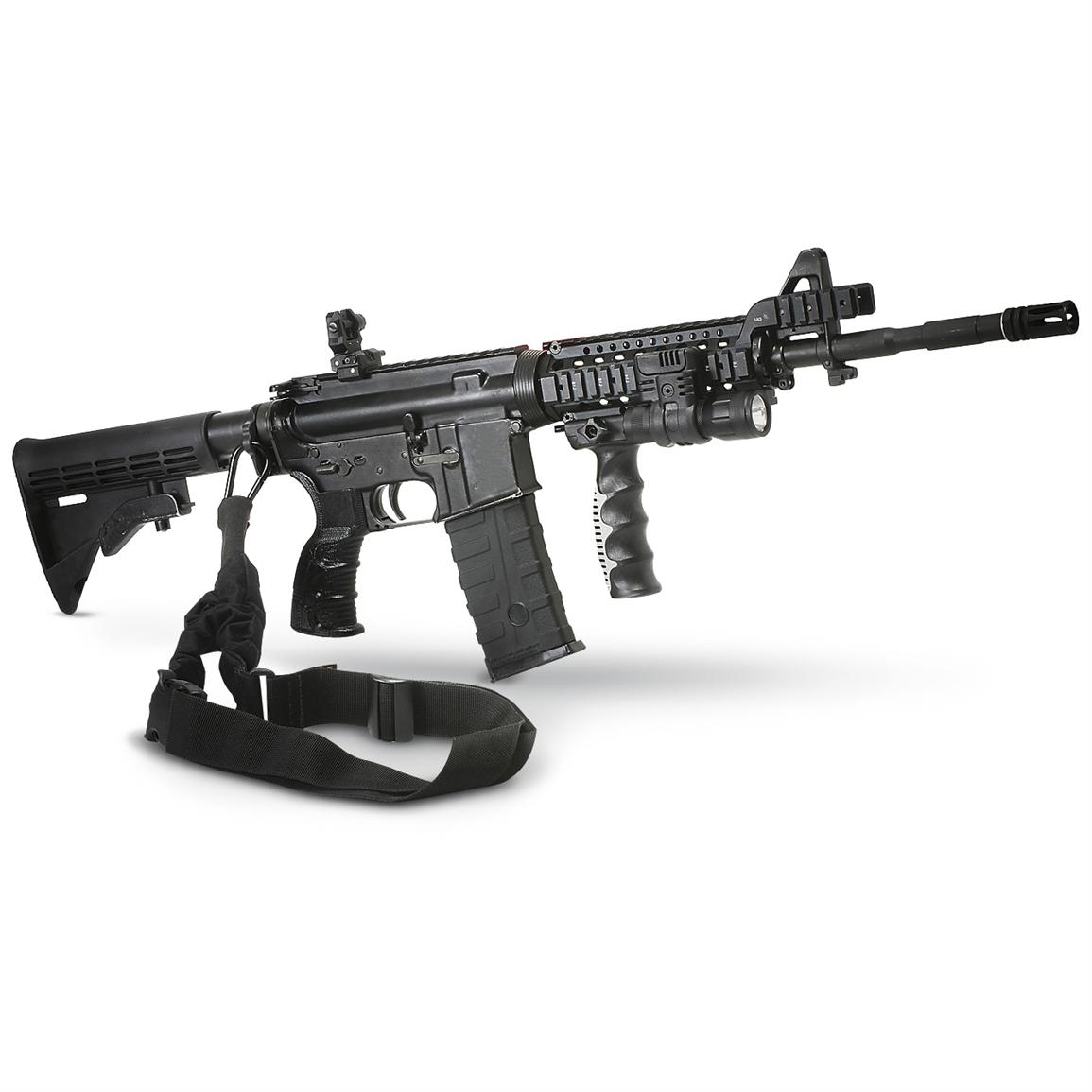 EMA® Gun Accessories to get the most mobility and performance out of your rifle!
EMA® Ergonomic Vertical Grip
Item # WX2-186143
Facebook

Twitter

Google+

Pinterest

Email
You must be 18 years of age to purchase this item.
Shipping restrictions apply to this product under some jurisdictions. Known age, state and local shipping requirements are applied at checkout and may result in changes to an order.
This item cannot ship to Canada.
This item cannot ship internationally.
Details & Specs

Your "heat" just got hotter! EMA® Gun Accessories, PRICED LOW !

When every extra second counts! Add the gear that could make the difference. These accessories turn your black rifle into a fast-acting assault carbine in less than 10 seconds. Superb aim, balance and response for the fastest-happening tactical scenario. Make your move!

Check out these accessories, then order ONLINE today!

Creates a natural fighting stance! Rubberized back for a comfortable grip, built-in storage compartment. Polymer. Fits Picatinny rail.

Replaces your original AR-15 grip in moments. Increases comfort and weapon response. Provides more control during firing, while reducing fatigue. Finger grooves and palm swell for a powerful grip. Mottled surface area for a more secure grip. Polymer, mil.-standard design.

Screw-tightened flashlight / laser mount. Low-profile design won't get in the way. On/off switch, easily accessible with thumb while using a vertical grip. Polymer. Fits Picatinny rail.

State Size, as available in the Shopping Cart.

Optimal balance and lightning response time... a favorite for VIP protection and other security missions. Designed for ambidextrous use. Fits well into your rifle, with screw-lock on tube (no disassembly required). Mil.-standard design.

Low profile, slim shape. Works both as primary or as backup sights. Side operating for ambidextrous use. Simple zeroing mechanism. Aluminum / polymer. Fits Picatinny rail.

Reviews

EMA Ergonomic Vertical Grip

is rated out of

5

by

13

.

Rated

5

out of

5

by

MR STEVE

from

Fits tight and is better than I expected as far as comfort and appearance.

Date published: 2012-10-01

Rated

5

out of

5

by

JAMES

from

Works like a charm. Easy to install.

Date published: 2012-01-05

Rated

5

out of

5

by

JOHN A.

from

Another great product at an unbelievable price.

Date published: 2011-11-15

Rated

5

out of

5

by

TYSON L

from

You can't go wrong for the price!

Date published: 2011-10-17

Rated

5

out of

5

by

DANIEL

from

Helps hold on target alot easier.

Date published: 2011-09-25

Rated

5

out of

5

by

RONNY

from

I sure wish I had ordered more of these. They are a great grip!

Date published: 2011-06-17

Rated

5

out of

5

by

DAVID J / SUSAN M

from

Best verticle grip I have felt, and the battery storage inside is perfect for extra 123 battery. very easy to mount. just right on my smith+wesson m+p 15 .22

Date published: 2011-04-27

Rated

5

out of

5

by

ALTON

from

grip was right on helps you stay on target my AR car is a monster and its all because of sportmans guide and i do not have as munch money in mine they paid alot more for the the things they have like mine and mine is better at a 1/4 of the price that they paid for theres thak you very much

Date published: 2011-03-28

Q & A

<!--BVSEO|dz:Main_Site-en_US|sdk:v1.0.7.0-n|msg:Error: Request errored out - The remote server returned an error: (403) Forbidden. -->

Articles & Tips
Don't Forget
Buyer's Club

$6.29

Non-Members

$6.99

Buyer's Club

$10.79

Non-Members

$11.99

Buyer's Club

$17.99

Non-Members

$19.99
You May Also Like
Buyer's Club

$26.99

Non-Members

$29.99

Buyer's Club

$134.99

Non-Members

$149.99

Buyer's Club

$71.99

Non-Members

$79.99