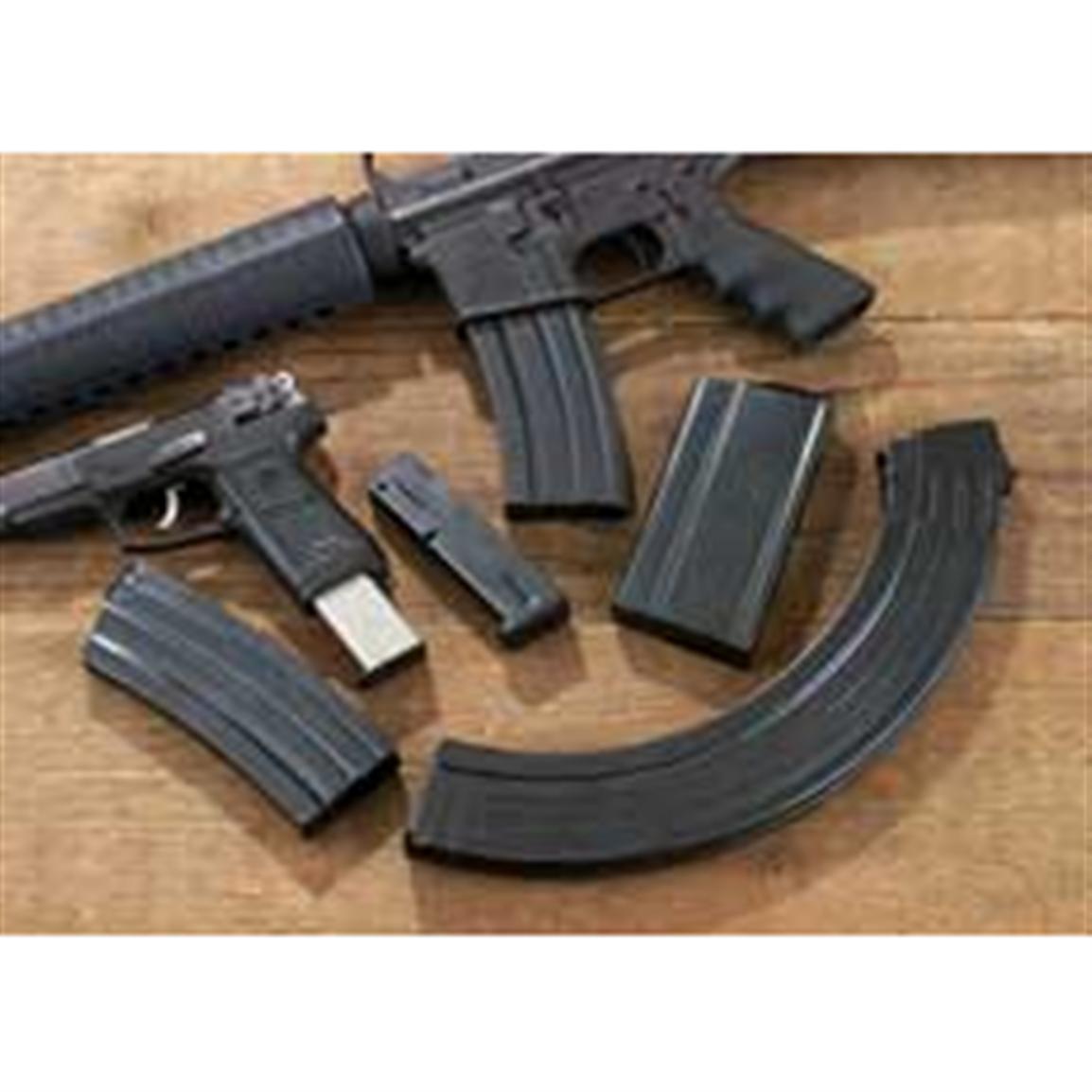 AR-15 20-rd. Blue Mag
Item # WX2-41529
Facebook

Twitter

Google+

Pinterest

Email
This item is eligible for a lightweight shipping credit of $1.00. Please note that only the two largest lightweight shipping credits will be applied to a single order.
You must be 18 years of age to purchase this item.
Shipping restrictions apply to this product under some jurisdictions. Known age, state and local shipping requirements are applied at checkout and may result in changes to an order.
This item cannot ship to Canada.
This item cannot ship internationally.
Details & Specs

20, 30 and 40 - rd. Magazines!

All are top-quality, spring-fed, well-machined and made for peak performance without hiccups.

Check out the choices! S&W,® Sig Sauer,® Ruger,® Browning,® Beretta®... plus AKs, AR-15s and much more. For maximum reliability these Mags are the way to go. Priced LOW, due to my volume buy!

Choose yours! Order ONLINE Now!

HIGH-CAPACITY HANDGUN MAGS

Stock No. 19162:

Model: 9mm Beretta&reg 92
Rds.: 30
Color: Blue

Stock No. 38701:

Model: 9mm Browning&reg Hi-Power
Rds.: 13
Color: Blue

Stock No. 69396:

Model: 9mm Browning&reg Hi-Power
Rds.: 30
Color: Blue

Stock No. 69402:

Model: Ruger&reg 9mm P85&reg/89&reg
Rds.: 15
Color: Blue

Stock No. 69403:

Model: Ruger&reg 9mm P85&reg/89&reg
Rds.: 20
Color: Blue

Stock No. 69404:

Model: Ruger&reg 9mm P85&reg/89&reg
Rds.: 30
Color: Blue

Stock No. 19196:

Model: 9mm S&ampW&reg 5900/915/459
Rds.: 15
Color: Blue

Stock No. 38705:

Model: 9mm S&ampW&reg 5900/915/459
Rds.: 30
Color: Blue

HIGH-CAPACITY RIFLE MAGS

Stock No. 41529:

Model: AR-15
Rds.: 20
Color: Blue

For Mags 40 rds. or more: For 30-rd. Mags: For 20-rd. Mags:

Reviews

Q & A

<!--BVSEO|dz:Main_Site-en_US|sdk:v1.0.7.0-n|msg:Error: Request errored out - The remote server returned an error: (403) Forbidden. -->

Articles & Tips
Don't Forget
Buyer's Club

$22.49

Non-Members

$24.99

Buyer's Club

$17.99

Non-Members

$19.99

Buyer's Club

$17.99

Non-Members

$19.99
You May Also Like
Buyer's Club

$16.19

Non-Members

$17.99

Buyer's Club

$15.29

Non-Members

$16.99

Buyer's Club

$16.19

Non-Members

$17.99