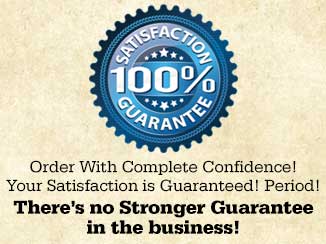 My Friend, Your Satisfaction is 100% Guaranteed! Period.
We have the strongest guarantee in the business
"You can order from the Sportsman's Guide with complete confidence because we stand behind every item we sell. If you're not happy for any reason at any time, just return the merchandise with your invoice, and we'll promptly refund your merchandise returned total, or make an exchange, whichever YOU prefer. Top quality gear at the lowest prices in town!"
General Information
We do our best to make sure the correct photo, price and copy are shown. BUT...sometimes we make a mistake. If that happens, we reserve the right to charge the correct price, to ship the correct item or to correct the mistake.
Low Price Guarantee
You can always count on getting the lowest prices at The Guide! If you find a lower advertised price for any item we sell...including our own catalogs...within 30 days of placing your order, we will refund you the difference. Proof of purchase and copy of the retailer advertised lower price is required. Retailer must have the item in stock. This guarantee does not apply to clearance prices.
Returning Merchandise
Returning merchandise is easy! If you wish to return merchandise for exchange or refund at your expense, there is no need to call. Customers are responsible for all lost and damaged items in return shipping so please insure. Just complete the form (or a copy) on the back of your invoice and send it along with the merchandise you're returning. Use the return address label on your invoice (located on the opposite side of the Return Form). Or send your return to:
The Sportsman's Guide, Returns Dept.,
560 Armour Avenue
South St. Paul, MN 55075
Note: The Sportsman's Guide does not accept returns on Ammunition, Food, and Gas or Diesel powered items once they have been gassed or oiled.
DAMAGED, INCORRECT, OR MISSING ITEMS:
Please contact our Customer Service Department immediately at 1-888-844-0667 Monday-Friday 7am-7pm CST and advise us of the problem.
Refunds or credit to your account will be handled quickly…usually within 3 weeks of the time you put the merchandise you're returning in the mail. And, if we have your e-mail address, we'll alert you as soon as your return is processed. No hassles, quick processing.