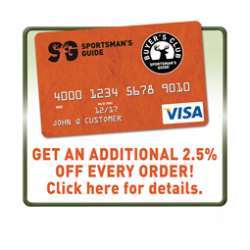 Join The Sportsman's Guide Buyer's Club Today!
You can't lose...

100% Savings Guaranteed!
For $29.99/Yr You'll Get all this!
10% EXTRA SAVINGS*

24 hrs. every day, 365 days a year, on any of our 3 huge-selection websites… SportsmansGuide.com, 365outdoorwear.com and TruckMonkey.com… and in our catalogs. 5% OFF on ammo and guns, no further discount on clearance items.

YOU CAN'T LOSE!

It's just $29.99 for a full year and your Club Membership is 100% guaranteed! "If for any reason during the year, you don't believe you're saving the cost of your Club Membership or more, you may cancel it, and we'll refund your membership fee, minus any savings you may have received. You don't risk a penny."

Exclusive Members only Bargains

- hundreds of them each month…online and in the catalog…not available to non-club members.

Buyer's Club Advantage Catalog

The Buyer's Club Advantage Catalog is Packed with Sneak Previews and Exclusive Deals for Club Members only.

Now for Club Members Only AND Available online! BUYER'S CLUB 4-PAY PLAN...pay for your order for merchandise totaling $150 or more in 4 monthly payments with NO EXTRA CHARGES.

Click the Buyer's Club 4-Pay box when you're ordering online, tell my order rep when you call, or check the box located just below "Method of Payment" on the order form. I'll divide the merchandise total by 4...bill you the first installment now, and then automatically bill your credit card over the next three months. Buyer's Club fee (if ordered) and shipping fees will be added to your first installment. Available on credit card orders only (with credit approval) for merchandise totaling $150 or more. Not available with check, debit card or money order payment. Not available in my retail outlet store. Cannot be used for the purchase of Gift Cards or on orders using Gift Cards.

Member's Only Offers, Discounts and Coupons!

When you join or renew your club, and periodically throughout the year.

Specialized Customer Service!

Your e-mail inquiries expedited through Customer Service, plus member's only catalog ordering and customer service lines.

For your convenience, your Buyer's Club membership will be automatically renewed annually on your renewal date.

Approximately one month prior to your renewal date, you will receive a reminder that your membership will be renewed along with your Buyer's Club Member exclusive offers. If at any time you would like to update your renewal preference, you may do so by logging in to your account online.

In addition, upon approval, earn a $40 Bonus Reward plus an extra 2.5% discount on all merchandise you buy from The Guide using your Sportsman's Guide Buyer's Club™ Advantage Rewards Visa® card.
You'll receive a Buyer's Club Membership Card with your identification number on it in the mail as soon as you join
Join Now!